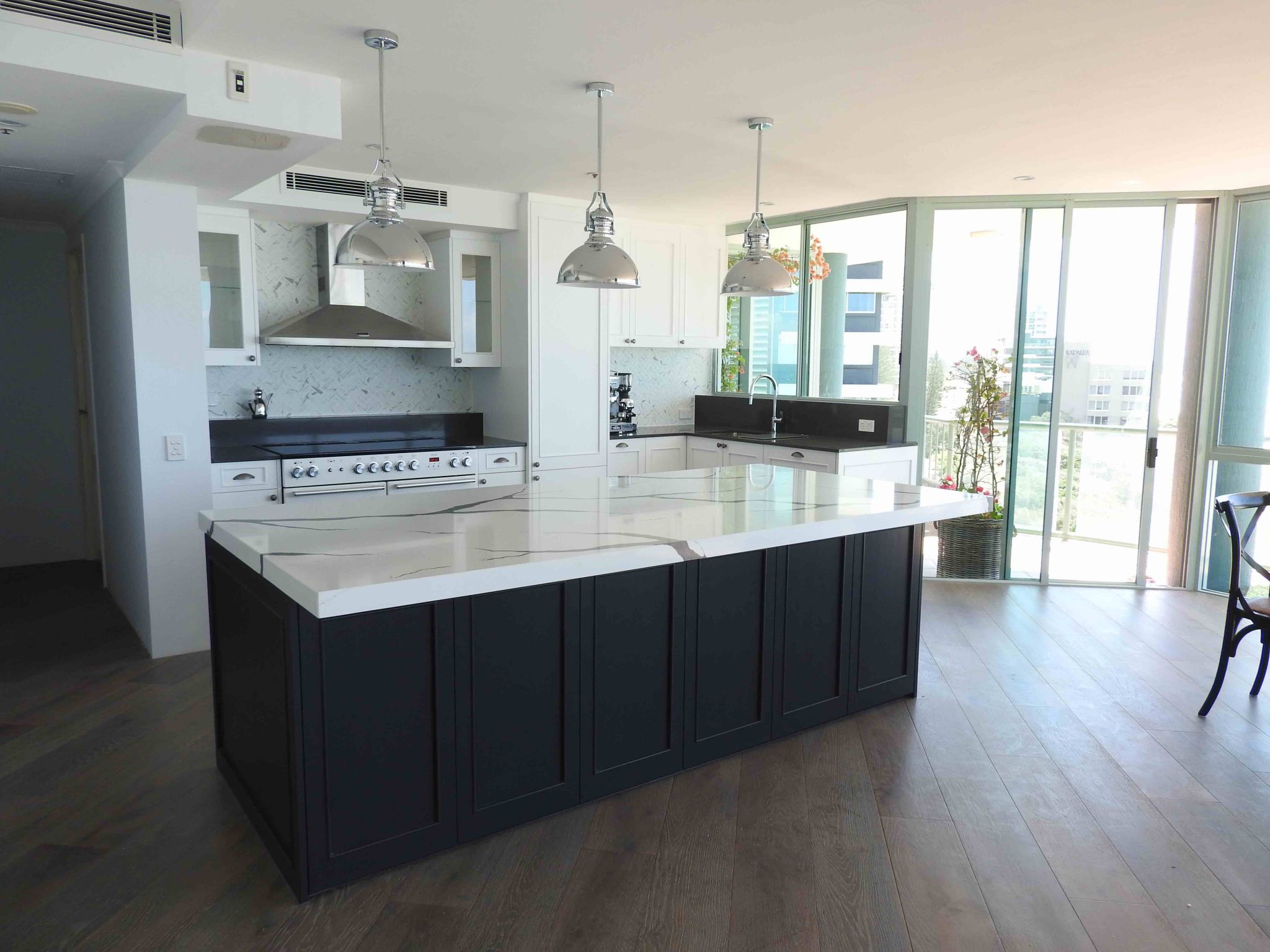 The modern family needs a modern kitchen. The kitchen serves many functions for a family. It is the place you prepare family meals, its is the place where you gather with the kids and help them with their homework and it is the place that you will be pouring the wine when entertaining. The kitchen is no longer just the place where food is prepared but is commonly the social hub of the entire house. With the whole family using the kitchen for multiple reasons the modern kitchen must be able to serve these different actions. So what does the modern kitchen need to accomplish this? At BJF we create beautiful kitchens , we have identified the three most important factors to creating the perfect modern kitchen.
Practical cooking space
A place for all the non-cooking activities
A space that works when entertaining
Its okay! All of these things can be combined to create the perfect modern kitchen!
Practical Cooking Space
It is important to get the basics right first. The traditional, and still most important, aspect of a kitchen is to prepare food. There are some basics to get right here that will allow for the kitchen to incorporate the other factors we talked about as well as being an accessible and easy to use space for cooking. The main factors of a well designed kitchen can be broken down into layout and space. We want to make the layout of the kitchen flow as easily as possible, and we want to have the right combination of bench and storage space. By working out your layout and then going from there you can help to create a functional space that is going to work for cooking as well as accommodating the kids homework and the late night dinner parties. A great place to start is with the working triangle. This is used to create a workable space between the three most important objects in the kitchen; the sink, the fridge and the stove. By creating an easy place to prepare food, you are halfway to creating the perfect family kitchen.
A Place for Family Activities
For most of our clients the kitchen is much more than just a food preparation area. It is the space in which family debates take place. The place where the kids are greeted and enjoy afternoon tea after school. For most of us it is the central gathering space that the majority of family interaction takes place. For this reason we think it is important to make it a place that promotes this interaction, an inviting place for the family to gather and be a family. If our families are spending a large amount of important time in this space why don't we spend more time on how we can improve the space for this function? For many the kitchen isn't setup properly to accommodate the social aspects of its use. Luckily it is not that hard to transform almost any kitchen into a more social space. A lot of the time it comes down to bench space. When designing a kitchen, a lot of thought goes into how the benches will be used in the preparation of food, but commonly little thought goes into how those benches will be used in other ways. By designing with the social aspect of the kitchen in mind we can create spaces that have more room for the family to gather and create memories. There are creative ways to use bench space so that it can serve dual functions. By having a central floating bench that allows access from both sides you can have a space for cooking and a space for socialising all in one. There are plenty of options for opening up the space of the kitchen to accommodate the kids.
A Space to Entertain
We all love having friends around, nothing is better than filling the house with laughter on a weekend. It's definitely more fun though when you have a space that is conducive to entertaining. There are a few appliances that help you get on the way to hosting amazing dinner parties that go long into the night. A dedicated wine or beer fridge. Whatever your choice of poison a wine or beer fridge can free up space in your main fridge and make sure you always have the perfectly cooled drink for any occasion that arises. An outdoor grill or BBQ is a great way to create two distinct cooking areas, this can help to free up space to converse while preparing food by having two locations to hang while preparing food. Whether the boys hang out by the grill, or you have a roast cooking away while everyone is inside by the kitchen, there are plenty of ways to make use of an outdoor BBQ or grill.
These are just a few ideas on how to open up your kitchen to become the social hub of your household. There are plenty more reasons and ways to transform your kitchen into a more social area. If you need a hand getting started with a kitchen renovation make sure to get in touch with us at BJF . We believe every family deserves the modern kitchen of their dreams and are passionate about helping families create their dream spaces.