Kitchen Styles Gold Coast
The most stunning and engaging kitchens on the Gold Coast are not just beautiful to glaze upon; they are made from the best materials and products, all designed and created to guarantee two things: long-lasting durability and premium functionality. Natural materials and moody colour palettes are among the key trends for kitchen renovations on the Gold Coast.
Kitchens Gold Coast Colours
There is a definite nod towards a moodier colour palette for kitchen renovations on the gold Coast. Dark kitchens and mixed materiality is the key to the new aesthetic. Matte black is still the number one trend in kitchens on the Gold Coast. The key is to utilise these materials in a way that embraces the intimacy and warmth they can provide through mixing materials to ensure they feel like the heart of the home and not too overwhelming or stoic
Natural Materials
The use of natural materials has been very popular recently. As people continue to make more sustainable and eco-friendly design choices. The use of natural materials is important, especially granite and marble tops. This change has forced manufacturers to create kitchen countertops with designs and purely natural materials.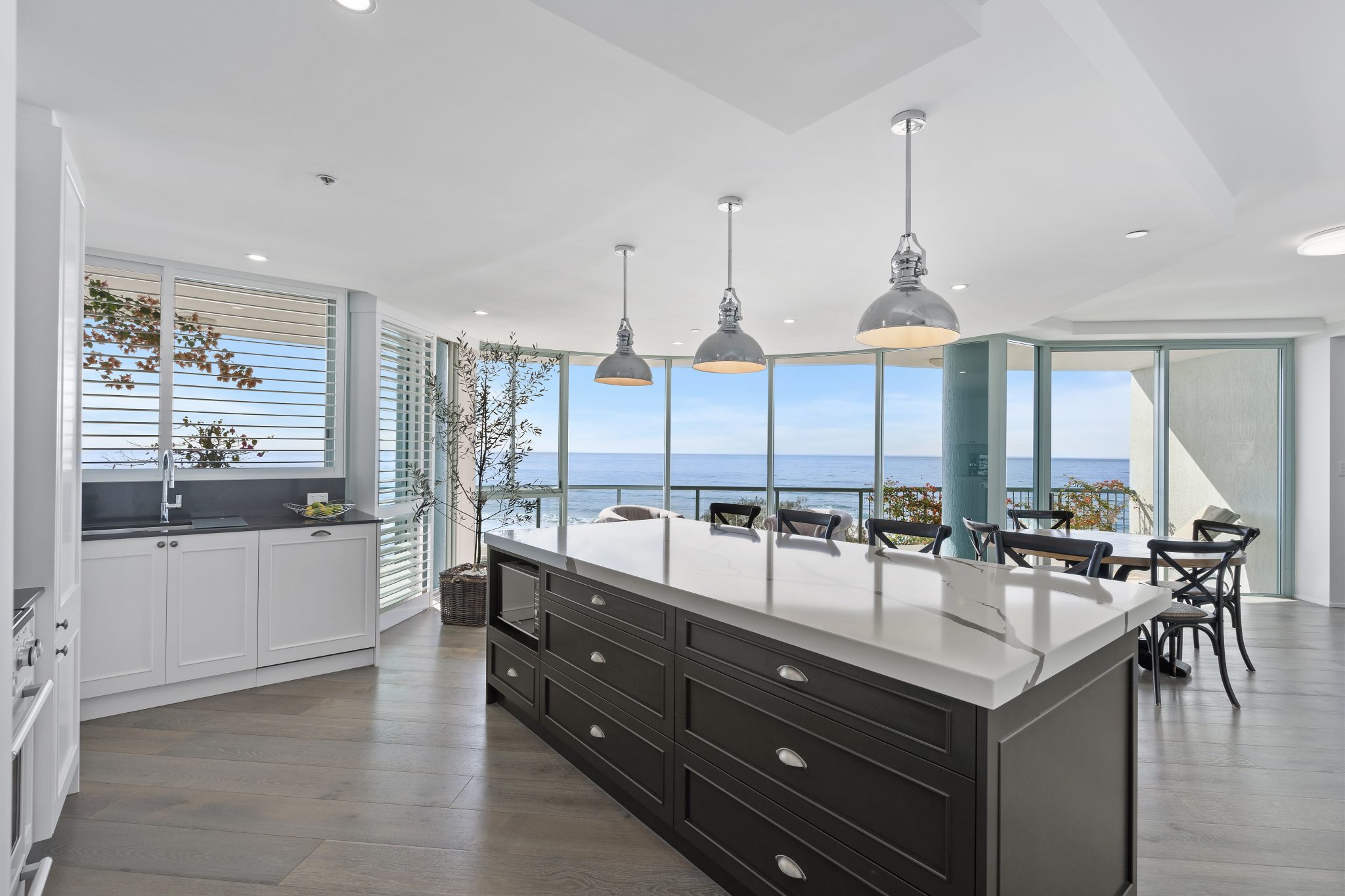 Kitchen Functionality
The Gold Coast kitchen has to be highly functional, efficient and comfortable because it serves as command central for the family. Of course, you want it to be stylish too. Working in the kitchen needs to be a harmonious experience, which means that the layout of your kitchen is extremely important. A kitchen that has an organized and methodical layout is a functional kitchen.
Our Latest Kitchens Gold Coast
I used BJF Joinery to install a new kitchen at my place at Mermaid Beach after having this company recommended to me by a friend who said they had a reputation on the Gold Coast for doing a superior job. My job included complete removal of the old kitchen, new custom-made cabinets, metaline, stone benches, plumbing, electrical work, and additional plastering work. They didn't disappoint as they:
• significantly improved my original plan;
• organized and executed everything in a timely and detailed fashion;
• worked on a trust basis (they had the key to the residence, I wasn't
there most of the time);
• kept me fully informed at all stages; and
• acted with courtesy and professionalism at all times.
My wife and I smile every time we walk into our new kitchen. Thanks Tom, Joel and the rest of the team.
Arnold Wissemann
Kitchen Renovation Gold Coast
kitchen renovations Gold Coast
Well now that all our cabinetry is done it would be remiss of me to not tell everyone how fantastic BJF Joinery is!, All the guys there are just absolute gems, number 1 they know their business, number 2 their work ethic is exemplary, I would recommend them to anyone with a rating of 20 out of 10! With my kitchen, ensuite, bathroom, powder room and laundry all complete I couldn't be happier and if my budget ever allows I will be calling them back for more!
Dawn Jones
Kitchen Renovation
kitchen renovations Gold Coast
At BJF Joinery, we have over 30 years' combined Kitchen Renovation experience in the industry and a proven track record on the Gold Coast.
We are committed to creating stunning Kitchen spaces on the Gold Coast that suit the uniqueness of each of our clients. We value the individual tastes and needs of each of our customers, and we are dedicated to creating unique areas that you will never want to leave. Our industry experience and passion for the heart of the home has helped us become the kitchen experts.
We are proud of our high level of seamless customer service and love to work with our customers through all the stages of their new kitchen design, manufacture, and installation. We assure all of our clients that once they place their trust in us, they will be nothing but delighted by the results
When you choose BJF kitchen renovations, you can relax. We are a local Gold Coast owned and operated a business, and we provide competitive quotes for today's market. We tailor each of our kitchens to your needs, and source all of our manufacturing to suit each project's budget.
kitchen renovations Gold Coast
kitchen renovations gold coast
kitchen renovations gold coast
kitchen renovations gold coast
kitchen renovations gold coast
kitchen renovations gold coast
kitchen renovations gold coast
kitchen renovations gold coast
kitchen renovations gold coast
kitchen renovations gold coast
kitchen renovations gold coast
kitchen renovations gold coast
kitchen renovations gold coast
kitchens gold coast
kitchens gold coast
kitchens gold coast
kitchens gold coast
kitchens gold coast
kitchens gold coast
kitchens gold coast
kitchen designers gold coast
kitchen designers gold coast
kitchen designers gold coast
kitchen designers gold coast
kitchen designers gold coast
kitchen designers gold coast
kitchen designers gold coast
custom made kitchens gold coast
custom made kitchens gold coast
custom made kitchens gold coast
custom made kitchens gold coast
custom made kitchens gold coast
custom made kitchens gold coast
kcustom made kitchens gold coast