If you're forever chasing more kitchen bench space to cater to a growing family, entertaining with friends or more simply just the mundane everyday tasks that take place in the hub of the home for convenience—here are some expert tips on ways you can expand your horizons with more bench space, more storage and better overall design appeal.
Living options are getting smaller as time passes—which means there is a call for compact kitchens to be designed in a way that will expand the visual and physical space within the kitchen to create a comfortable and easily utilisable space. The amount of available kitchen bench space can differentiate a practical kitchen from an impractical kitchen so be sure to keep this in mind for your upcoming kitchen renovation or new build.
Pull-out, pull-down, and fold-up benchtops.
These types of benches are instant bench tops that allow you to access more bench space for food prep or making drinks for example. This is ideal for compact kitchens as they are completely integrated and concealed when not in use. Practically speaking, an expert cabinet maker from BJF Joinery will ensure pull-out benches won't shake, which is essential if you're doing food prep with knives or using glass items in this process. They can also confirm the weight-bearing restrictions and find a robust design that will cater to the tasks you want to perform.
Another important element is that you need to be able to access every area of this integrated design for cleaning to ensure you can maintain a hygienic space. The cabinet maker will need to ensure the height of your pull-out benchtop is suitable for functional purposes which could be anywhere from 850 to 1050 millimetres.
Smart utilisation of island storage.
Kitchen islands revolutionised storage space availability in our kitchens! When our kitchen islands have more storage, your bench space will be clearer and more utilisable. However, sometimes those deep, set-back, dark and low to the ground cabinets in a kitchen island can be difficult to access and end up making storing items more of a hassle than it should be. This can result in you using your valuable kitchen bench space to house bulky appliances that should be out of sight.
A great solution for this is to utilise both sides of the kitchen island. Think having twice the number of cabinets, half as deep—strategically placed around the entire island to cater for all your storage needs. These back-to-back shallow cabinets on either side of the kitchen island will allow you to access your items easily—and will prevent any items being lost in the back of those generic deep cabinets.
Space around your island bench top.
It's understandable you want to create the most expansive kitchen island bench top as possible—and we recommend doing this to give you the ultimate utilisable bench space. However, to avoid unnecessary crowding and poor flow in your kitchen it is vital to plan to have adequate room available surrounding your kitchen island. This is one of the first sections of the kitchen design that you should plan for, to ensure your upcoming kitchen renovation is a success. Plan for at least 900 millimetres of space between the island and fixed items—such as other benchtops in the kitchen, walls or pieces of furniture. This will allow enough room for people to move around the island without having to turn sideways. This design blunder can really take the luxury out of your kitchen design!
More often than not, people usually create a workspace on the kitchen island as kitchens are generally conveniently located in areas of the home that are airy and light filled. Factor this into your modern kitchen design plan along with the other parts of the kitchen facing the island too. This includes the stovetop, sink, also where appliances such as the dishwasher and fridge will factor into the space. Keep in mind appliances with doors need to be catered for adequately to ensure the space doesn't become unusable when the fridge door is open for example. The ideal space between the working areas of the island and other benches is 1000-1200 millimetres, although 900 millimetres will suffice in a one-cook kitchen.
Consider an open island or butcher's block.
This is a cart-style kitchen island that gives you similar benefits to a typical kitchen island but without the fixed-in aspect. This is a moveable, open-sides island that creates the illusions of more space in a kitchen. This is ideal for kitchens with smaller footprints. Storage is easily accessible on either side of an open kitchen island and it's also moveable which allows you the convenience of changing the layout of your kitchen with ease. This is a multifunctional piece as you can roll this to another area of the home and use it as a buffet station or bar cart.
Wheeled butcher's block.
These are butcher's blocks on wheels, which can roll in and out to blend almost seamlessly into your cabinetry. These create an instant moveable bench space which is practical and very utilisable day-to-day. These modular features offer increased flexibility if you need to use your kitchen for dual purposes, such as storage and cooking, or if you simply want to create some more bench space.
Float an island or peninsula benchtop.
Depending on the layout and design of your kitchen, often the ideal spot for an oven or a set of pull-out drawers will be a bit too close to an island or peninsula bench. This is quite the conundrum when it comes to the design flow of your kitchen! This issue can be solved by incorporating a floating benchtop that extends a bit beyond the peninsula base. This allows you to enjoy that extra bench space without getting in the way of swinging doors as you move about.
There's nothing you will regret more than blocking the flow of your kitchen design. If you can't move freely around your kitchen, you need to stop and reconsider some important elements prior to committing to your kitchen renovation. The easiest solution to this is—speaking with a professional from BJF Joinery who can address your concerns in a concise and cost-effective manner.
Multipurpose kitchen furniture.
If you don't have room in your kitchen to incorporate a kitchen island for that extra bench space, there is the option to incorporate furniture that has dual purposes to achieve this extra bench space—without committing to the kitchen island built-in fixture. For example, you can welcome a dining table into your space that doubles as an extra bench. When not in use it will just look like a kitchen island, and it can be moved around your kitchen or open plan living area as needed.
Most dining chairs comfortably suit a table height of 750 millimetres. Bar stools tend to be best for higher kitchen benchtops which can range from 850 to 1050 millimetres high. It's good to make a furniture choice based on whether you will use this table more for cooking or dining. An extra work zone that is a touch lower than your benchtop can be ideal if you have people of different heights at home, i.e., children. Island tables make a strong and stylish statement in any kitchen regardless of the footprint.
Take over a nook.
Often you will find a nook or area that is underutilised close by to your kitchen that you can transform into an extension of your kitchen or a "speciality area". Many people opt to add extra bench space to a location within the home, close by to the kitchen, to create a coffee/tea area, a toast/breakfast station with an extra sink, or even a smoothie bar. This way those large appliances that tend to take up your bench space will have their own speciality zone.
This is practical and visually appealing in your space too. From a design perspective if this nook is adjacent to your kitchen continue the cabinetry style and bench top to this area to create complete design cohesion. This will add an extra dimension to your kitchen design.

Dedicated appliance cupboards.
Appliances such as coffee machines, toasters, blenders, and microwave ovens for example can take up a massive amount of kitchen bench space which can result in your kitchen feeling smaller and less practical. By having a skilled cabinet maker create perfectly sized kitchen appliance cabinets, you will suddenly have far greater access to that valuable kitchen bench space.
This will also allow your kitchen to not seem as cluttered—and it will have a more integrated look and feel. Another tip when it comes to cumbersome appliances—be very ruthless in which ones you want to keep! If you have two blenders; or a thermo mix and a free-standing mixer, it's time to do a cull!
Add functional shelving to your wall.
If you have an existing kitchen design or you're ready to undertake a kitchen renovation, incorporating functional shelving into your space can allow you to free up the bench space for more important things. This is by far the quickest and easiest way to add additional storage into your kitchen and will allow you to store things on your shelving rather than your bench space. This is ideal for coffee mugs, glassware, your mortar and pestle and even a fruit bowl.
Retrofitting cabinetry can often be difficult and impractical however, installing some sturdy floating shelves above your kitchen bench in a convenient location can allow you far more freedom to utilise your bench space as desired.
Ceiling mount open shelves.
Wall mounting open shelves allows you the freedom to have the benefit of extra storage space from shelving without the need to overtake an entire wall, which may be difficult for those to locate if you have a more compact kitchen. Wall mounting shelves will allow you to have your shelves visually levitating from your roof in an area convenient to your kitchen without inhibiting the design flow.
Once you find the visually obvious spot to install these shelves—fill them with items that a guest might want to use—or the more frequently used items in your kitchen to maximise functionality in your space. Ceiling mounted open shelves are without sightlines which means they won't box in your space, so you can still see through to the rooms beyond. This is ideal for not making your space feel cramped or cluttered.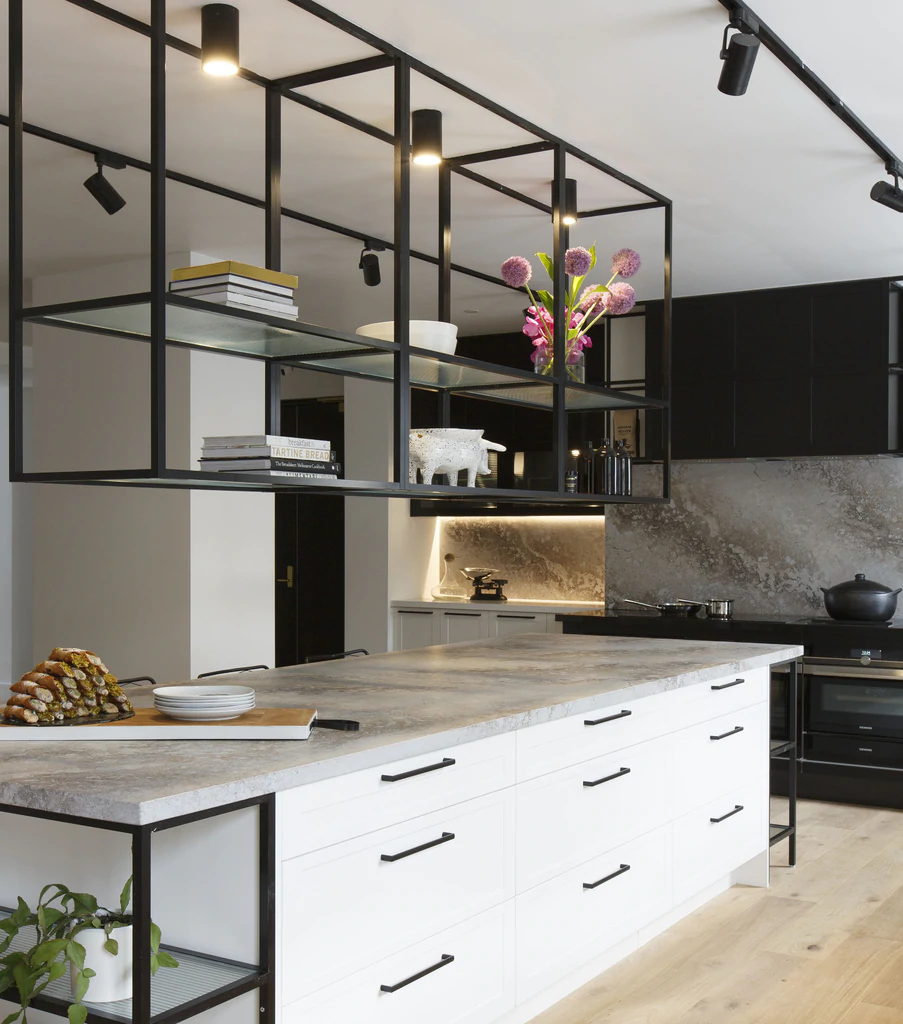 Opt for a single bowl sink.
Depending on how you utilise your kitchen space, you may find that choosing to install a single sink rather than a double bowl sink will be far more space saving. This design element can be the difference between achieving an adequate amount of bench space in your kitchen—so decide carefully what you value more, bench space or that extra sink.
Single sink designs are quite popular and typically larger than they once were—so they will still allow you to wash large pots and pans with ease depending on your design choice. Sinks without integrated drying racks also free up extra bench space alongside your sink.
Try an induction cooktop.
Due to the sleek, flat, and highly integrated design of an induction cooktop, this can double as extra bench space when you're out of room. Whereas if you have a gas cooktop you don't have the option to utilise this space in such a way. The induction cooktop can be utilised for your chopping board to cut vegetables and for varying food prep tasks. Induction cooktops also have the ability to cool quickly which make them the ideal multifunctional surface that can elevate the functionality of your kitchen.
Place a cumbersome appliance on the induction cooktop like a blender—or stir your cake mix on there too! There's no doubt the induction cooktop allows for more kitchen bench space when not in use in comparison to other cooktop styles.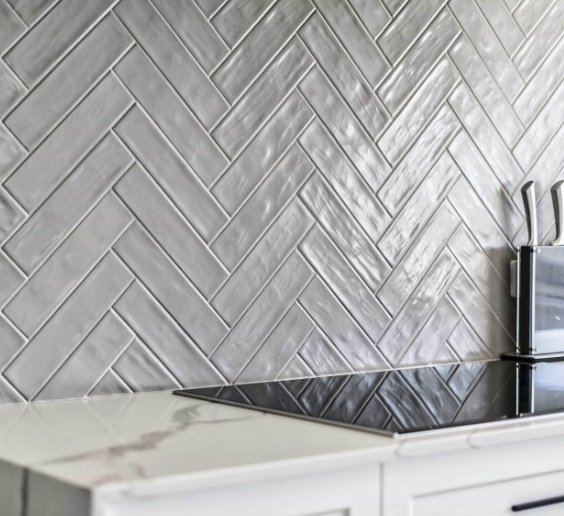 Incorporate a smart kitchen sink.
With kitchens becoming more compact, kitchen accessory designers have become highly creative with accessories that allow you to optimise your kitchen bench space. Removable sink inserts can instantly create extra bench space that can be utilised for all kitchen tasks! The smart sink inserts work by fitting snugly over your kitchen sink. Additional models slide back and forth while others sit over your basin recess.
With some of the available designs—you will find they are even fitted with important everyday kitchen accessories such as chopping boards, mixing bowls, drying racks, dip bowls and more. Choose the design that works best for your lifestyle or maybe purchase a combination of smart kitchen sink accessories to truly optimise your kitchen bench space.

Clever bin storage.
Similar to the smart sink inserts, this is a pull-out working zone that fits snugly over your bin to provide a concealed bench space that can be utilised whenever necessary. A popular feature you can opt for is having a bin draw insert that comes with a handy hole so you can scrape food scraps directly into the bin below without touching it. Other clever designs fit bowl inserts or are made purely as chopping boards.
Some bin inserts can be retrofitted however, it's recommended that you factor this accessory into your kitchen plan prior to renovation in order to achieve full cohesion and the ultimate smooth functionality. These smart inserts aren't only for the bin drawer, they can be fitted to any pull-out, pull-down or slide out cupboard you wish! Think about how your ideal kitchen will function—and discuss your smart extra bench space design plans with a trusted professional.
Decluttering.
If you have noticed that random items around your home always end up on your kitchen bench you can make a dedicated cupboard to cater for these items. Often this may include electronic items such as laptops, tablets, smartphones etc. so a popular choice for those who are wanting to keep their bench space unoccupied is to create drawers for these specific items. These drawers can be fit with chargers too, to make this an even more beneficial space within your kitchen. You may have a special hook or drawer for your keys that always seems to be floating around your bench space too.
Maybe your placemats, wedding gifts or napkins can be stored in a piece of furniture such as a buffet located in your dining room. Moving items to alternate locations that aren't used often, allow your kitchen to remain clutter free. It's also recommended that you do a cull of items you've collected over the years which you're happy to part with so you can start fresh after your kitchen renovation.