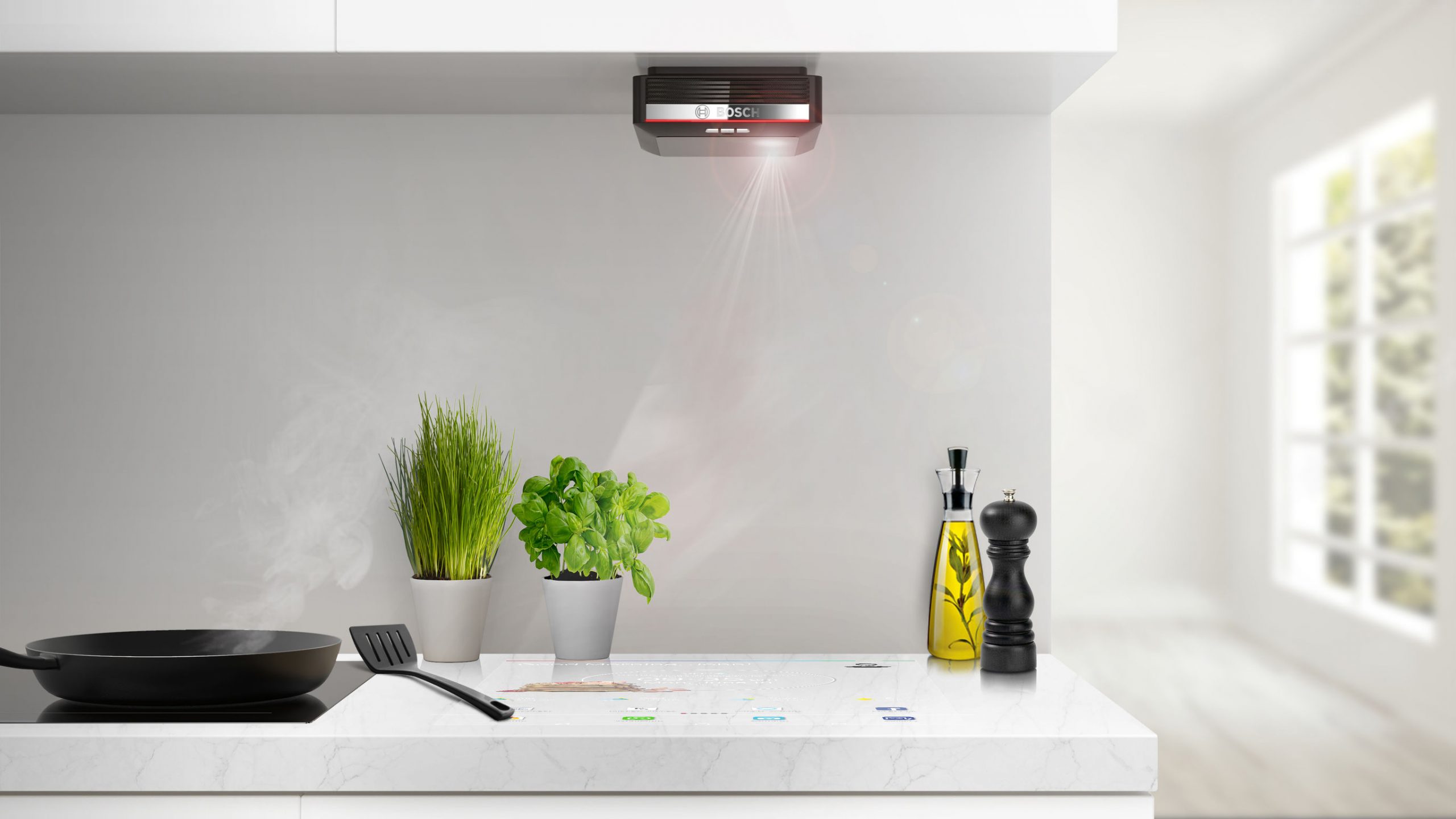 As each year passes kitchen technology continues to advance—this progression has transformed the way we build and interact with our modern kitchens. Tech incorporated in new builds and kitchen renovations has become the new norm. The growing presence of technology in our kitchens (the heart of our home) has created this term 'smart kitchen'. True to its name, smart kitchen designs have revolutionised the basic kitchen, improved functionality, and increased efficiency in ways we could have only dreamed of a decade ago. Here's what you need to know about the current and emerging trends of the smart kitchen.
Kitchen automation.
Smart kitchen appliances and devices are more affordable and easier to install than ever before due to technological advancements—which means the option of kitchen automation is highly achievable for those looking to renovate their home kitchen. Automation is the new age way to manage the power consumption of your kitchen, to save on energy bills and it allows you to live a more sustainable life overall.
The foundation of a smart kitchen with home automation is when you incorporate features that are Wi-Fi-controlled—and appliances that are app-controlled that you can manage by using your smartphone, tablet or via voice commands.
A smart speaker is a must for the optimal smart kitchen design, such as the Amazon Echo Dot or a Google Nest Mini. By incorporating kitchen automation into your upcoming kitchen renovation, you will be able to use your smart speaker to play music, make phone calls, make voice command shopping lists, listen to news, receive weather updates, seek answers to questions related to the meal you're cooking, set timers and even play games to pass the time while you're stirring that demanding risotto.
Kitchen automation allows you to take a smarter approach to climate control within your space. Manage your family's power consumption by switching off lights and appliances when they're not needed—or schedule these items to turn-off at selected times of the day for optimal power saving. Switch off heating or cooling when it's not needed, both when you're at home and remote to save on energy bills. With home automation you can create a cool or warm environment in your kitchen to cook in while you're on your way home from work—by using app-controlled climate control tools.
Lighting control.
There has been a major industry boom with lighting control for kitchen renovations. This comes in the form of smart switches, dimmers, and motion sensors. With speciality smart lighting installed in your kitchen you can control all your kitchen lighting in a hands-free manner. This includes a wide range of lighting and fixtures such as downlights, pendant lights, mood lighting, task lighting, pantry lights and even LED strip lights. Energy efficient LED lighting is a popular choice for upcoming kitchen renovations too as they will help you save on energy bills. Selecting the most advanced light bulbs will also help dramatically in this department! For example, smart light bulbs last 10 times longer than regular bulbs, and they only consume 8.5 watts of electricity as opposed to the 60 watts conventional bulbs. When you utilise smart light bulbs you have the freedom to use your smartphone or tablet to change the colour—or dim your lights to your desired brightness. You can even schedule your lights to turn on and off at certain times of day. The scheduling option is a fantastic safety feature because having lights turn on and off throughout the evening in your kitchen can trick potential burglars into thinking someone is
home even when you are not.
Smart sensors.
Smart sensors on standard kitchen appliances and fixtures are another feature growing in popularity due to technological advances. Think sensor lights that turn on as you enter your butler's pantry, motion sensor bins to keep your space more hygienic and sensor taps so you don't need to touch the fixture with dirty hands—only to have to clean it again later. Another recent development in smart kitchen technology is the incorporation of humidity sensors, which are designed to closely monitor the level of moisture in your kitchen (and to automatically turn on ventilation) when necessary. Water-leakage sensors are a very practical inclusion for your smart kitchen renovation as they provide an early warning or trigger a series of actions to prevent water damage and mould growth caused by a leaky dishwasher or water pipe. Sensors can increase the safety measures in your smart kitchen as there are specialised sensors that can detect if your oven or stove has been left on or if there is a gas leak, which can protect the health and safety of your family.
With increased accessibility, the interest in affordable, easy-to-use, and future-ready systems has risen significantly. Individual sensor-based appliances and accessories can be incorporated into your smart kitchen to cater for an array of safety and health concerns. It's mind blowing how futuristic our kitchens are becoming! There are sensor cups/mugs that can determine the ingredients in your chosen beverage, such accessories also provide nutritional metrics like caffeine levels and can track your fluid intake. There are smart egg trays available that let you know how many eggs you have left in the fridge while you're out at the grocery shop. Each egg slot has a sensor that keeps track of each egg's individual shelf life based on when it was added to the carton—and LED lights indicate which of the remaining eggs are freshest.
Product tip: Clipsal Wiser Smart Home is a scalable, automated smart home solution that lets you control almost everything in your home with a single app. It's easy to install / set-up and is a great alternative to create a smart kitchen without the need to rewire your space. This new product allows you to control your comfort, peace of mind and energy efficiency—right at your fingertips through the Wise by SE app, using voice commands or simply from your existing light switches. With a Clipsal Wiser Smart Home, you can use smart voice devices like Amazon Alexa and Google Home to set the lighting to a 'dinner' mode without needing to leave the table—or activate a 'sleep' mode in the kid's bedroom while you're doing the washing up. This is a fantastic starting point which is ideal for creating a smart kitchen in your home.
Why have smart kitchens grown immensely in popularity?
Smart kitchens can make your everyday life quicker and more convenient. Once you have experienced the flexibility of smart functionality in your kitchen, it's hard to go back to a generic kitchen design. Can you picture your life without your smartphone anymore? That is exactly how you will feel if you experience a smart kitchen design. The kitchen is the hub of the home, often overrun with people and appliances. Integrating your appliances and incorporating a smart kitchen design will make cooking, cleaning, and many tasks far more seamless. Ultimately, a smart kitchen allows you to create a comfortable environment in your home all year round, from temperature control to lighting control to advanced motion sensors that promote health and safety in your family kitchen.
What type of smart appliances are available for my kitchen?
Due to technological advancements, basically every standard kitchen appliance (large options and those found on the countertop) are available in smart options to make life easier and mundane tasks much faster to complete. You'll find smart functionality incorporated in dishwashers, rangehoods, coffee machines, microwaves, ovens, sensor taps, along with Wi-Fi-connected benchtop appliances such as the Thermomix.
Product tip: Miele M Touch oven is a smart oven that connects to the Miele app so you can control it from anywhere. This futuristic appliance also offers FoodView and CookAssist functionality that allows you to keep an eye on dishes that are cooking—all from your smartphone or tablet.
Product tip: Thermomix TM6 is your second pair of hands in the kitchen, replacing over 20 appliances in one, you can chop, blend, whip, weigh, mill, knead, mince, sear, sous vide and much more, all at the touch of a button. This smart cooking machine is integrated with Instacart and smart kitchen appliances and is complete with Wi-Fi feature updates.
Product tip: Bosch Home Connect is changing the way you interact with kitchen appliances with their latest designs that look seamless—and create a more integrated functioning kitchen space. The Bosch Home Connect range caters for everything from cooking to washing thedishes—and allows you to get the most out of your kitchen appliances daily. The Home Connect app lets you monitor and control your appliances no matter where you are. Preheat the oven on your way home from work, start the coffee machine from bed, or have your washing ready just as you arrive home. Home Connect puts it all right at your fingertips in an easy-to-use manner.
Here is the entire list of Bosch products available to be integrated into the Bosch Home Connect app. This includes fully-integrated dishwashers, built-in ovens, built-in fully automatic coffee machines, induction cooktops, Wi-Fi connectivity front loaders and more!
What does the future of smart kitchen technology hold for us?
Sustainability.
It is predicted that there will be an emphasis placed on creating even more energy and water efficient appliances. These will also increasingly have to be manufactured in a way that minimises air pollution. The air and water at home and in public spaces in many regions needs to be cleaned and purified for use and consumption and this might have implications for future developments. As a greener kitchen is expected to be one of the next decade's biggest trends, kitchen appliances overall design trends are becoming more sustainable and efficient. Devices like energy-efficient appliances, heat induction technology, built-in herb gardens and water conservation systems will be huge in the coming years.
Recycled materials / compact manufacturing.
There is also expected to be an increased focus on recycled materials for sustainability. Future appliances will also continue to be more silent, which is also an environmental issue. The future of appliance design may look slightly different regarding the availability of appliances. With urbanisation, growing populations and smaller spaces in our homes, the appliances need to be even more efficient in size and performance to cater for future generations adequately.
Wi-Fi connectivity.
If you begin embracing the available Wi-Fi enabled smart kitchen appliances now, it's likely you will be able to take advantage of new features when App developments and technological advances occur in the future as often these can be software-based improvements. The software element of your smart kitchen will allow you to futureproof your kitchen and keep up with the emerging smart kitchen trends through regular updates. This means there's no need to wait, purchase your smart kitchen appliances and integrate your kitchen appliances in your upcoming kitchen renovation to create the most convenient and luxurious kitchen space—that will serve you well for many years to come. Many of the major kitchen appliance manufacturers are mindful of this progression and therefore are keeping this end solution flexible and achievable for the everyday family.
Cleaner technology.
COVID-19 has heightened the need to keep our space cleaner and more hygienic for the overall health of your household. Notoriously the kitchen can be a bacteria haven at times which is why major appliance manufacturers are placing an emphasis on cleaner technology. This includes touchless appliances (taps, soap dispensers, rubbish bins, water machines), robot vacuums and voice-controlled devices to avoid spreading bacteria around the kitchen with unwashed hands while cooking or cleaning. Smart home technology enables consumers to have touchless access and control from pre-programmed settings on their mobile device or through voice commands. This technology means homes will become safer especially during high-risk times such as the holiday seasons. A goal for smart kitchen technology developers is to make everyday life more convenient for families of all kinds as well as more functional and pleasant to use.
Disaster preparation.
The increasing temperature of our planet means that natural disasters are becoming commonplace across the country. Because of this, homeowners are looking to be prepared for whatever comes their way. Whether it's a wild storm or flooding, homeowners may need to be able to survive in their homes for an extended period. To prepare, many are turning to their kitchens for support. Devices such as water storage systems, backup generators for refrigerators, long-term food storage areas and solar water heaters have become popular for this very reason. While looking to the future, new builds will likely have some of this technology directly integrated to make sure these new homes are meeting homeowner desires.
Devices to expect in 'kitchens of the future'.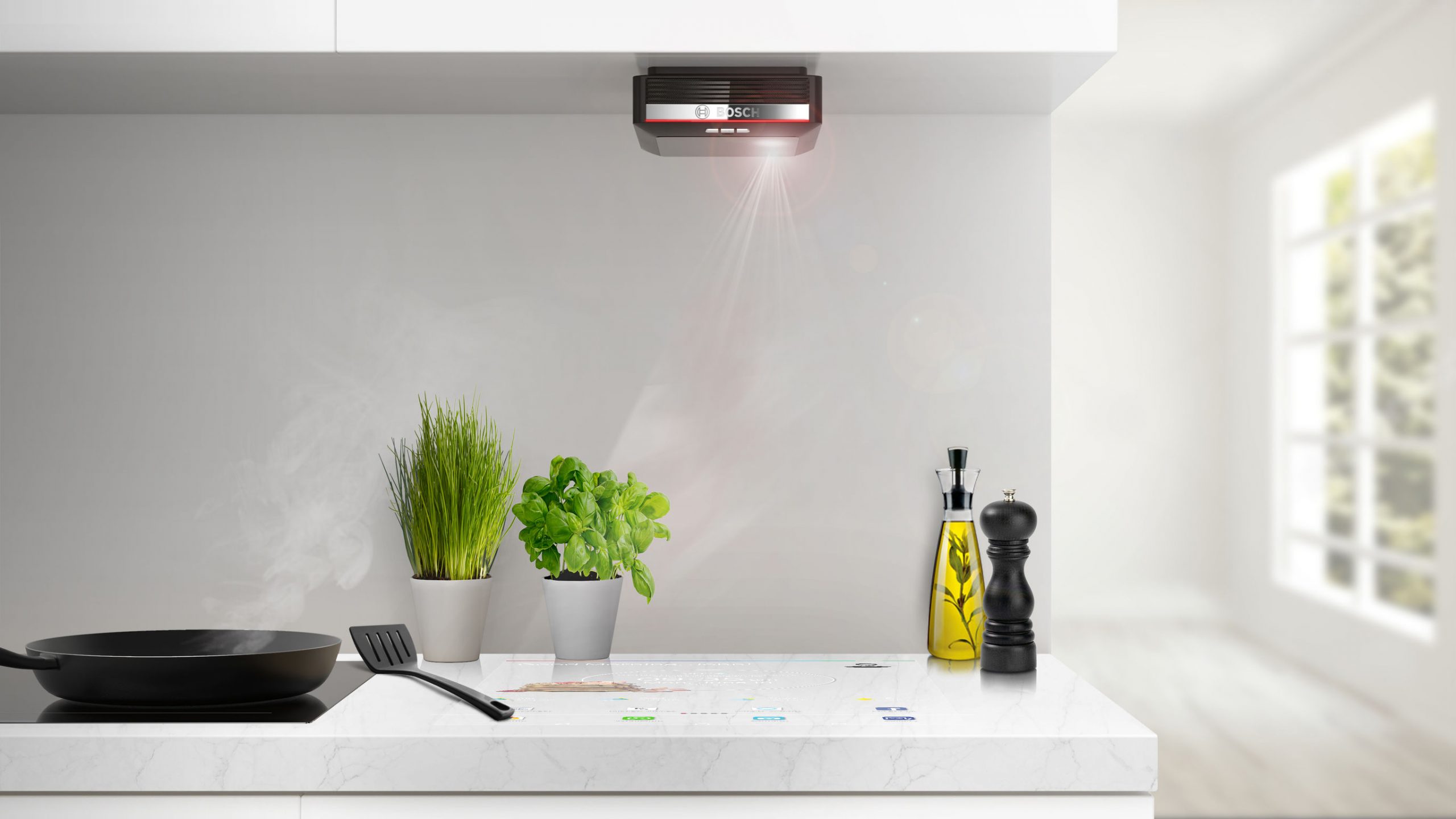 Countertop projectors.
This interactive device allows you to control other appliances by turning your benchtop into a responsive touchscreen. You can scan the thickness of foods such as a steak to get the ideal cooking time for the chosen cut including great recipe options to make a complete dish. This is amazing technology for avid bakers as this device can even project patterns onto food to make cake decorating a breeze—while also helping you achieve perfectly even slicing segments for your birthday cake. Since the countertop projector adheres to the underside of your cabinet, it doesn't take up any benchtop space which is ideal for the more compact living options we expect to see in the future.

Steam ovens.
Steam ovens are currently available on the market—however, it's predicted they will continue to advance and will be incorporated into many kitchen renovations and new builds in the near future. These are ovens that are capable of faster, more consistent cooking, and can even bring stale bread back to life. Water molecules conduct heat more efficiently than dry air, allowing food to cook faster in a steam oven. As the moisture circulates in the steam oven, there's less of a chance that something like a roast chicken will become overcooked or dried out. When used in steam mode, this new age oven design can cook rice or sous-vide vacuum-sealed items, eliminating the need for a circulator. Steam ovens are experts at reheating (or reviving) leftovers, and it can reverse stale bread back to its soft and fluffy form. They prevent cross-contamination of food, allow you to use less oil when cooking and will preserve the nutrients of your food. Despite presently limited options available on the market, the steam oven remains a game-changer for the modern family that is busy, health-conscious, and who desire high-quality meals with minimal effort.
Smart fridge.
There are a few options of smart fridges currently available—and it's predicted this technology will continue to progress and become an integral part of most household kitchens. These appliances are fantastically convenient and are fitted with internal cameras which allow you to remotely check the contents of your fridge and to create virtual shopping lists (so you never forget any items in the grocery store again). The smart fridge allows for the ultimate convenience and can even remind you of upcoming family events. Smart fridge options often come complete with a smart assistant who can help you with ingredient swaps or measurement conversions while cooking or baking.