One wall kitchen designs are relatively similar to the traditional galley kitchen. However, instead of being incorporated into your home purely as a space saving option (due to the size restraints of modern living quarters), one wall kitchens are becoming more of a lifestyle choice embraced by those residing in both homes and apartments. Having your kitchen appliances and main cooking area along one wall can be the most practical and space saving option for many kitchen spaces regardless of the size and footprint shape. You can incorporate many interesting storage options in a one wall kitchen design and you have the freedom to welcome furniture into your space too—which elevates the room stylistically and functionally.
The one wall kitchen design trend has grown in popularity over the last decade—as it's fantastic for more compact living spaces and it also has an impressive open feel that is easy to manoeuvre around. Often one wall kitchen design is more affordable than other kitchen layouts because it's more of a simple design scheme in comparison to a kitchen in a 'U' shape design for example. A one wall kitchen can turn any limited kitchen space into a beautiful and highly functional kitchen. Are you wanting to achieve affordable luxury with a modern one wall kitchen for your upcoming renovation? The single-wall layout may be your ultimate solution. Read on for more tips on how to achieve this in your space.
What is a one wall kitchen?
Single-wall kitchen designs typically have the smallest possible footprint and, as the name suggests, incorporate all furniture and appliances in a single wall run. They can look very seamless and integrated and can work for a myriad of different home layouts. Due to the one wall kitchen design utilising less materials such as cabinetry and bench tops this kitchen layout is the most affordable option. When there is less incorporated into your kitchen in a practical and strategic manner this can create an efficient workflow. Efficiency and minimalism are the design foundations of one wall kitchens.
Factor in lifestyle needs.
Although the one wall kitchen typically is for spaces with a smaller footprint, an ideal aspect of a one wall kitchen is that it won't encroach on neighbouring rooms such as the dining or living area. The one wall kitchen stays in its lane and looks fantastic in an open plan dining/living area. Typically, one wall kitchens are designed for one person to be cooking at a time, (which may be a limitation depending on your lifestyle needs) however, a positive to this factor is that a one wall kitchen is easily accessible to others while someone is cooking due to the elongated and space-saving design. To achieve a cohesive design you are proud of, it's recommended to keep this sociable aspect in mind when planning a one wall kitchen to ensure your design adequately accommodates your lifestyle needs.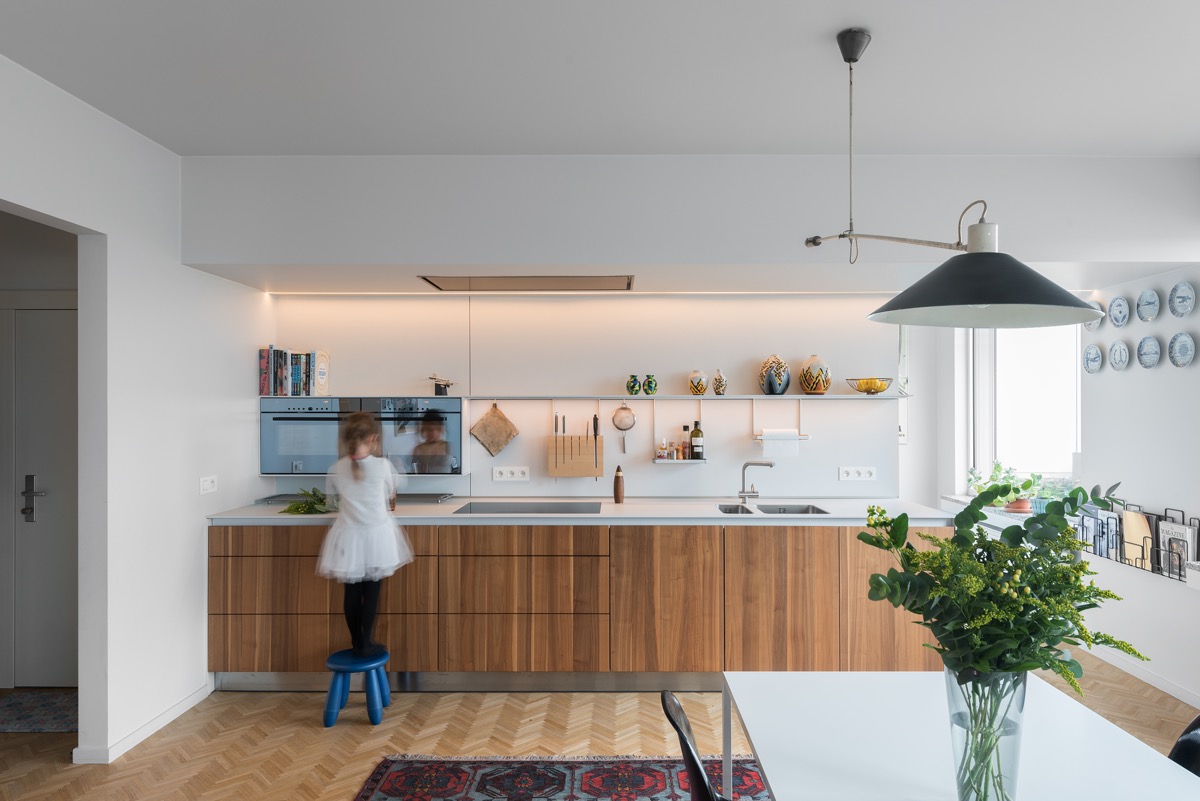 Dynamic layout tips.
It's always stressed how important the planning phase is for your upcoming kitchen renovation because this is what will determine the success and overall outcome of your renovation. Never underestimate the power of planning and always engage the help of a professional when doing so. Particularly with the one wall kitchen design, planning is emphasised even more as the space is limited and therefore you need to sometimes get creative with the layout to keep it dynamic and catering adequately to the needs of your busy household. Often (but not always), a single-wall kitchen will include a fridge on the far end of the kitchen run, as this promotes a balanced visual design. Then the typical one wall kitchen layout has the sink next to the fridge, followed by benchtop space on either side of the sink. Then your dishwasher and storage are generally located underneath the benchtop.
The oven and stovetop are usually located on the far side of the kitchen run (on the opposite side to the fridge). An important tip is to ensure you have benchtop space on either side of the oven and stove top, so you have a place to set down food. This is important for kitchen functionality and safety. If you want to include additional storage overhead cupboards that go to the ceiling may be beneficial. Sometimes people opt to add tall cabinetry or 'bookending' to their one wall kitchens for more storage and a balanced finish.
Your one wall kitchen layout checklist:
Customise your space: plan for a minimum of 2400mm of wall space or more for a one wall kitchen layout to ensure that you can fit all four primary points in the design including the refrigerator, sink, rangehood, and countertop surface.
Consider the location of your kitchen sink: it is ideally best to place the sink under the window to take advantage of any scenic views and to welcome in the natural light. If possible, locate the sink in the centre between the rangehood and refrigerator to create the ultimate functioning assembly line when cooking or cleaning. This also means that your sink will be within reach when cooking which is far better for overall convenience and design flow.
Consider your workflow: create and maintain benchtop landing areas between the refrigerator and the sink; and the sink and the rangehood to allow for work areas to overlap. This also allows for space to store food and kitchen utensils while meal prepping, cooking, and cleaning.
Consider the location of your refrigerator and tall cabinetry: to avoid interrupting your benchtop surface and space, place any tall appliances (refrigerator, ovens, tall storage cabinets) on opposite ends of the kitchen run otherwise you will hinder the functionality and visual balance of your kitchen space.
Maximise on your storage: when you only have one wall to work with, think vertically with your kitchen storage. Enhance your storage space by designing your cabinets to reach the ceiling. You can even incorporate toe-kick drawers on all your base cabinets which will give you that extra storage space for shallow cooking items and utensils such as baking trays and dishes.
Auxiliary island or table: if your space allows for it, adding an auxiliary island or dining table that is mobile can provide extra storage and countertop surface to utilise when prepping meals. Keep in mind you should maintain a minimum of 915mm of walkway space between all sides of the island/table and perimeter cabinetry walls to ensure optimal safety and functionality in your kitchen.
Ensure efficient use in your one wall kitchen by following the 'kitchen work zones' foundation rules. The arrangement of the work zones in a one wall kitchen can be interchangeable, however, there is a prescribed formation that is proven to increase the functionality of your kitchen for carrying out daily tasks. All work zones should be laid in this order: 'refrigerator-sink and rangehood' formation.
Choose appliances that fit your space.
It's understandable that often extra-large, French door refrigerators, oversized dishwashers, and freestanding ovens that take up ample space aren't the most suited for the space conscious, one wall kitchen design. Instead, opt for appliances that are compact and fit in nicely with the overall proportions of this limited space. Modern appliances are designed in a way that allows them to be compact but still extremely good at their job which means bigger doesn't always mean better. The appliance market is vast, and you can find integrated compact dishwashers at 45-centimetres-wide, compared to the standard 60-centimetre-wide models. The same applies to compact ovens, microwaves, steam ovens and warming drawers. Appliance designers are hyper conscious of creating space saving powerful designs as our living spaces get increasingly more compact.
If you have an open plan area, ensure you select your appliances wisely and opt for quieter models. This way, if your washing machine or rangehood's extractor fan is whirring, you can minimise noise pollution in the adjoining space which causes less disruption to lifestyle factors.
Incorporate an island.
If your kitchen footprint allows for it, including the addition of a kitchen island parallel to your one wall kitchen can help you maximise the overall potential of your kitchen space. Whether the island is movable or built-in, this smart design feature is guaranteed to provide more counter space that can serve multiple purposes. This allows your one wall kitchen to become a more dynamic hub in your home. You can opt to utilise your island for pantry storage or even an extra seating area. This extra space can be customised to suit your lifestyle needs.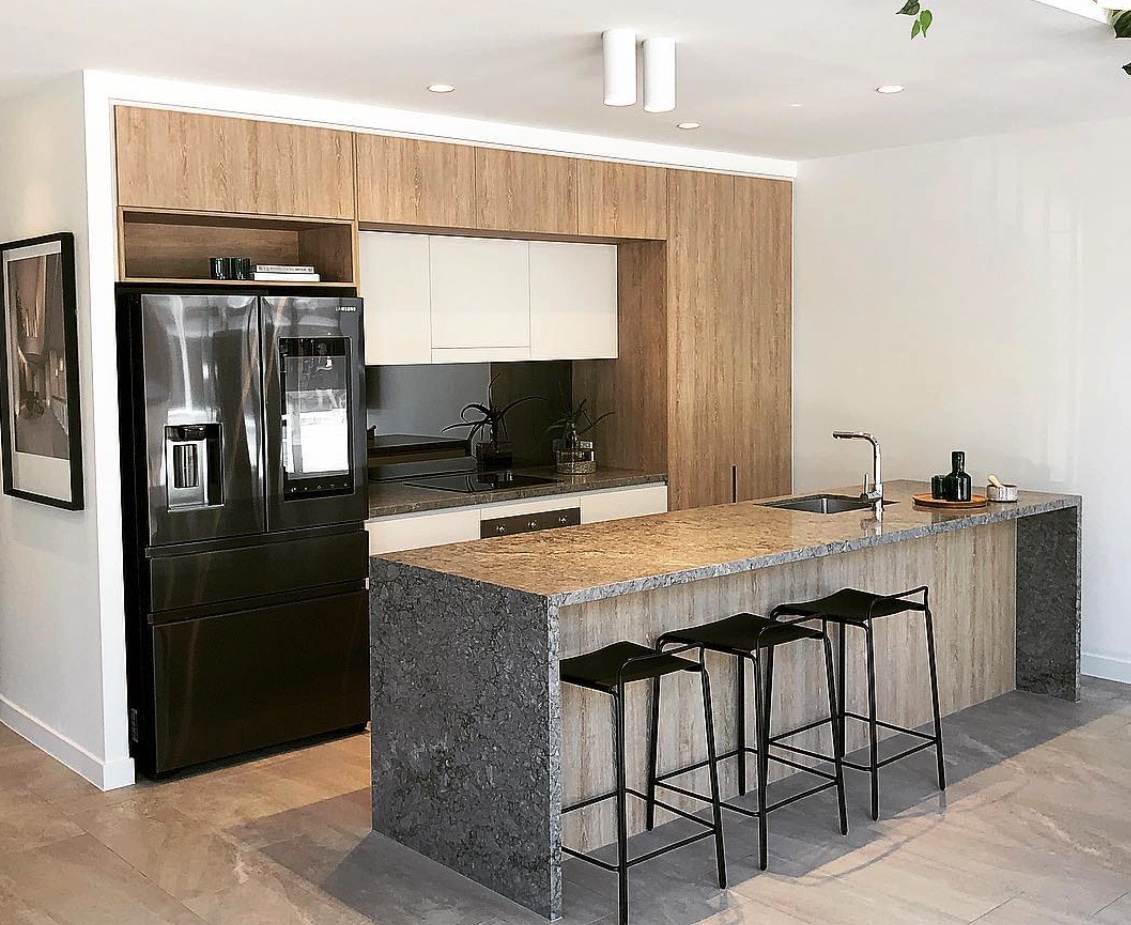 Integrate multipurpose furniture.
By keeping your kitchen on one wall, you allow for more space for a table if your home doesn't have a dedicated dining room. If your space doesn't allow for a built-in kitchen island, multipurpose furniture can provide a smart solution which can enhance the functionality of a one wall kitchen design layout. A simple drop-down table can double as a casual dining area, a working counter, or a food preparation area. This type of furniture assists in creating a distinction between the kitchen and living room, creating a feel that they are two separate spaces.
Alternatively, to achieve a similar effect welcome a breakfast bar with stools which is also ideal for entertaining guests. Differentiate zones by altering the flooring options with different materials or more simply rugs between each area to zone the separate functions of the spaces. Incorporating this type of furniture into your one wall kitchen is both cost-effective and immensely beneficial particularly if multiple people are using the space simultaneously.
Bring back the larder.
Originally, a larder was where raw meat was larded—covered in fat—to be preserved. However, by the 18th century, the term had expanded to now become a 'dry larder' where bread, pastry, milk, butter, or cooked meats were stored. Accompanying a larder, you would then have a pantry which traditionally was a separate room for the storage of dry goods and food preparation items. Nowadays, these two terms are interchangeable and can come in many design forms. This may include a free-standing cupboard, an under stairs alcove or a built-in bespoke kitchen design element to keep all your condiments, tins, and baking goods in order.
Depending on the space available to you, larders can be an incredibly practical solution to store dry food, vegetables, and small appliances like coffee machines, microwaves, and toasters. By incorporating a modern-day larder into your one wall kitchen you will be able to access that convenient, extra-storage space you crave while paying tribute to the history of early kitchen design. A larder has a storage capacity that can free up space in the rest of your kitchen, so you have room for more decorative touches like wall art and pendant lighting which in turn makes your space feel less functional and more homely.
Try open shelving.
You can easily break up your wall units with open shelving which can be decorative as well as practical. Open shelving can be located on the wall to either the left or right depending on your chosen space. Open shelving is space saving and makes the kitchen appear more breathable and spacious. This is the perfect type of storage for a compact, one wall kitchen because it doesn't enclose the space or make it feel overly cramped.
Lighting can transform your space.
With your one wall kitchen, strategic lighting design creates a more visually expansive space as it doesn't allow for dull corners and shadows to overpower your kitchen space. LED strip lights, recessed lights and smart task lights can be combined beautifully for an even layer of lighting throughout your kitchen design. Less common in one wall kitchen designs are pendant lighting options, however, they can very much be successfully incorporated in a neighbouring space to keep the one wall kitchen nicely illuminated from all angles.
Go vertical.
When you're working with a smaller footprint it's best to go up if you can! While horizontal space may be limited in a one wall kitchen, you can stack open shelves vertically to gain that extra storage space. You don't need to stick to one row, go for multiple rows to maximise your vertical storage space. You can take this storage capitalisation to new heights by building out shelving units beneath the bench top as well. This can be both a practical and decorative element to incorporate into your one-wall kitchen design.
Differentiate 'hot' and 'cold' areas.
'Hot' and 'cold' areas within your kitchen should never be placed next to each other as you risk the chance of a heat transfer from your stove to your refrigerator for example. When planning the placement of your appliances ensure you factor in that your refrigerator needs ample clearance to dissipate heat.
Try the all-white minimal look.
With the one wall kitchen design, creating a more expansive and visually pleasing area within your home by opting for the sleek, all-white colour palette, will make your space seem larger than it is. Light and bright one wall kitchens are ideal in comparison to darker toned kitchens which tend to make the space feel more enclosed. With white, semi-gloss kitchen cabinetry and a white stone benchtop, the natural light will bounce around the space making it feel light and airy. The all-white cabinets, countertops and backsplash create the perfect canvas to welcome kitchen accessories into this space. Kitchen tools and open shelves with speciality crockery look fantastic in this style of space. The white colour palette looks fantastic paired with silver appliances and green plants. These homely touches can make your all-white modern kitchen feel more inviting and relaxed.
Go all-neutral.
The neutral colour palette is a very popular choice for kitchen renovations due to its natural and calming appeal. Neutral kitchens may incorporate light coloured wood tones, terrazzo tile bricks, wooden bar stools, and a wood tone countertop that plays with browns and tans. The key with creating a neutral one wall kitchen is to not have it looking overly matchy-matchy. Play with different textures and materials to give your space that earthy and natural feel. Welcoming a pop of eucalyptus green into your neutral space either through wall art, house plants or even by painting the feature wall, will help in creating the ultimate earthy and tranquil sanctuary that welcomes the outside in. If you're designing a one wall kitchen in an open plan living space, you'll have a lot more freedom to branch out with bold colours. When working with darker tones in an open plan home, it's better when you're working in a more expansive space as this will be able to carry dark cabinetry doors or brighter splashback tiles which can then be balanced throughout the rest of the scheme.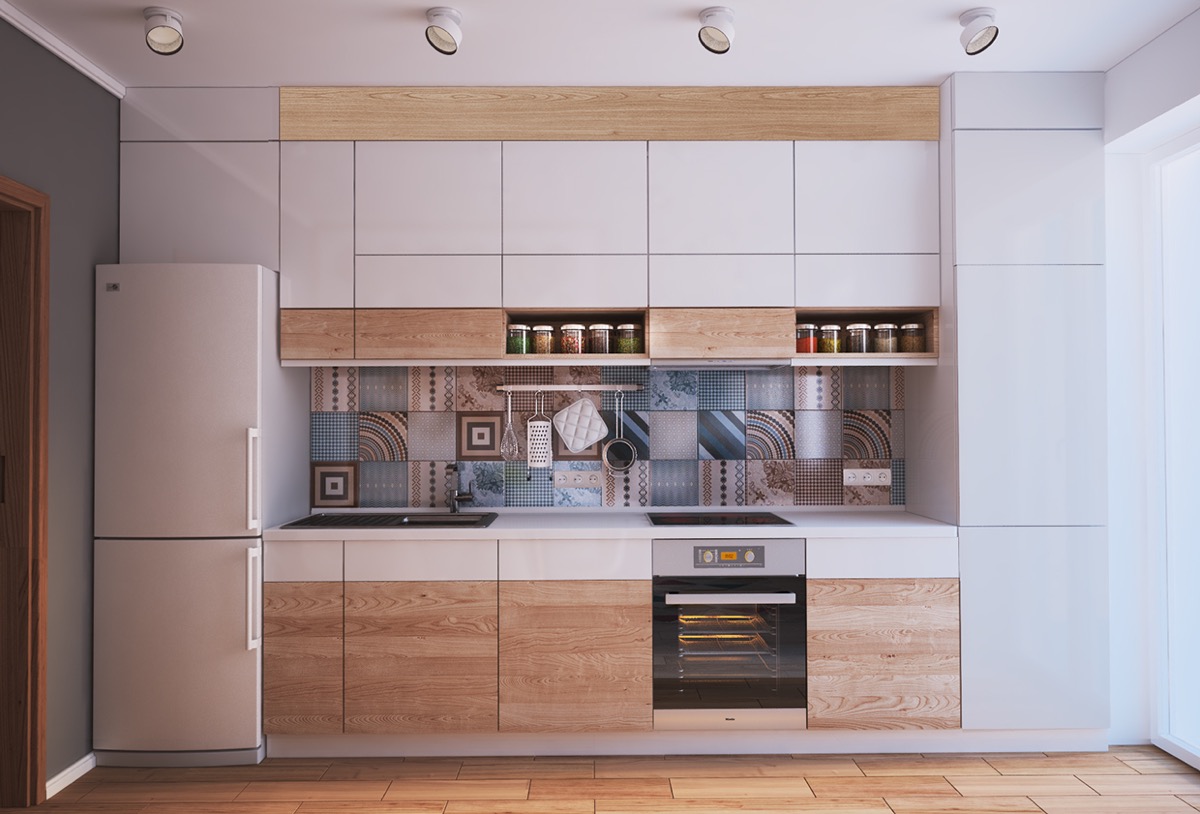 The one wall kitchen is perfect for outdoors.
The one wall kitchen is not only for indoor space! An outdoor kitchen is a fantastic way to implement this layout into your home without it being your main kitchen. In your outdoor area the singular wall helps to define the space and promote privacy when entertaining outdoors. This outdoor kitchen layout scheme boasts a very open and inviting atmosphere. You won't block off your outdoor area and people will be able to move around the space freely. This is ideal when enjoying an outdoor BBQ as guests can access food, snacks, and the bar fridge with ease. This creates the ultimate flow in your outdoor area while entertaining. An outdoor kitchen is undoubtedly a very luxurious element that can work for an array of exterior spaces (both big and small).