The year 2022 is upon us! More than ever before your home and specifically the ultra-dynamic kitchen space—is being utilised extensively and has become the highest traffic area within the home. As the pandemic continues to interrupt our daily schedules—kitchen benchtops and dining room tables have transitioned into the workspace, the meeting room, the classroom, and weekend entertaining precinct. We have been—and at this rate will continue to spend more hours of each day within the confines of our own home, which is exactly why in 2022—people are prioritising their kitchen space. They are doing so by engaging in kitchen renovations and implementing kitchen design strategies that create a sense of calm and happiness with a major emphasis on functionality to cater for the array of varying daily tasks that now take place within the home.
What we've seen already is that people are yearning for serenity and comfortability from a kitchen design perspective in 2022. If you're looking to renovate your kitchen and create the ideal space to escape from the chaos—here are our predicted 2022 kitchen design trends that will keep your home stylistically elevated with a high-end look and feel.
Tip: The kitchen is by far the most important room within a home! By encapsulating the latest design trends for your upcoming kitchen renovation—you can dramatically increase the value of your home! Read on to learn more about the most outstanding kitchen design trends of 2022.
Curved kitchen islands.
Used for entertaining guests, cooking, storage, admin, and homework—the kitchen island is one of the most versatile features within a kitchen. The kitchen island you choose also has the potential to be one of the most beautiful features within your home. Curved kitchen islands are a huge 2022 kitchen design trend—they are so divine that they can double as sculptural masterpieces within the most important room of your home! Create a luxurious yet practical kitchen, with a curved island bench that has a fluid shape designed to facilitate easy movement around the room. Add your favourite flat top stools to increase the usability of the space even more. The curved benchtop is not limited to one material, as you can combine curved shaker cabinets topped with your ideal veined marble benchtop or maybe take an art deco approach with a dark stained wood curved kitchen island amplified by a moody kitchen colour palette. For an extremely high-end look, utilise two solid blocks of stone carved with round edges to create the perfect form. Ones we are seeing quite often in new builds and just completed kitchen renovations—are curved kitchen islands paired with timber slats or panels to create a soft and organic feel within the home.

Broken plan living.
For so long the emphasis has been on open plan living—however, this wide open, stylistic trend does come with some cons—such as—it can be difficult to cool and heat a space of this calibre. Also, there are potential noise issues that accompany open plan living/dining/lounge areas. 2022, is all about broken plan living which puts an emphasis on the clever use of a space. Distinct zoned living areas are created using varying floor finishes, split-levels, and semi-permanent partitions, such as bookcases and screens. With broken plan living you can still embody that wonderful open feel, while simultaneously creating that feeling of separation and privacy. With simple decor changes you can achieve a balanced broken plan living space through selecting the correct storage options, modular furniture, tiered shelving, by painting feature walls or defining zones with different flooring options to highlight boundaries in open areas.

Multipurpose butler's pantry.
This is a luxurious addition to any kitchen that can vary immensely in size—and generally caters to the storage of bulky kitchen appliances, food prep and any unsightly kitchen tasks or items so you can keep your main kitchen looking pristine. The multipurpose butler's pantry is a 2022 kitchen design trend that is both practical yet visually appealing. Try adding your laundry into your butler's pantry for a space saving, efficient design. Let your butler's pantry double as a mudroom to keep your interior clean and tidy, or even add a study nook to get some much-needed privacy away from the daily chaos associated with a pandemic household. Continue your kitchen design theme into your multipurpose butler's pantry to create design cohesion and a visually appealing design flow. Use strategic task lighting to make the space extra functional.
High-tech kitchen taps.
Smart kitchen taps make life much easier—get purified cold, hot, and sparkling water at the touch of a button, or even opt for the touchless kind of high-tech kitchen tap which allows for maximum hygiene and convenience. Future-proofing your kitchen with a high-tech kitchen tap will allow you to do away with bulky kitchen appliances such as water purifiers, kettles, and soda streams. This is a space saving design element that is predicted to be extremely popular this year. Smart kitchen taps have an array of different settings and powerful sprays to make cleaning a breeze. Some of the more high-end options even allow you to integrate your kitchen tap with Amazon Alexa or Google Assistant to control the flow of the water with your voice.

Downdraft extractors.
You may be familiar with the rangehood extractor which is an essential part of all kitchens—however, as technology continues to progress the downdraft extractor is expected to make an appearance in many Australian homes this year. Downdraft extraction systems expel fumes "down" through a duct, can be installed much more discreetly and offer more versatility than a conventional overhead rangehood. The sleek and effective design of a downdraft extractor makes them ideal for any minimal or modern kitchen design. They will future-proof your kitchen by providing fresh air, they won't obstruct your view and are far easier to clean than the traditional rangehood. Generally, the Downdraft extractors are quieter than the average extractor hood, which makes for a more pleasant cooking experience.

Streamlined kitchen design.
Having a more streamlined, clean kitchen design is the way of the future. In 2022, you will see many kitchens embracing this new kitchen revolution, with fully integrated appliances and clear benchtops with no bulky elements that block natural light from bouncing around the space. Kitchens are no longer solely for cooking and are an integral part of the modern home. Having a streamlined kitchen with clever storage, space saving cooktops and integrating appliances such as microwaves, coffee machines and water purifiers in smart and efficient ways is very on-trend for 2022. The ideal streamlined kitchen should have fantastic task and mood lighting options with an easy to manoeuvre design that is free from clutter.

Eco-friendly kitchen design.
In 2022, there is an emphasis on health and well-being. This has become evident in the home design world with many taking additional steps to ensure their kitchen renovation is as eco and sustainable as possible. If you're updating your kitchen wall colour, opt for a natural paint which is made from materials like clay, milk proteins, or citrus, which is solvent-free and has zero levels of volatile organic compounds (VOCs). This will reduce indoor air pollution and chemical exposure. Install eco-friendly, energy-star rating windows that will help minimise the heat transfer between indoors and outdoors, reduce energy bills and greenhouse gas emissions. Try incorporating a recycled glass or reclaimed wood countertop, which are non-porous and won't require the use of toxic sealants. Also, sustainably sourced hardwood floors can really give your eco-friendly home a luxurious edge!
Creating a calming and restoring space.
The onset and continuation of the COVID-19 pandemic has increased our focus on wellness and serenity. Many are opting to keep their homes and specifically their kitchens as tranquil as possible and are drawn to materials, textures and colours that ground us. Think, muted greens and blues and soft pink tones as well as warm wood grain kitchen cabinetry. These choices will elevate the restorative feel of your kitchen to aid in reducing stress and increasing positivity. Welcoming complementary green hues into your space whether this be through paint, soft furnishings, art, or kitchen appliances will convey organic naturalness and allow you to feel more connected to nature regardless of where you live. 2022, is all about bringing the outside in since we are more confined to our homes than ever before.

Light and dark wood tones.
Add textural warmth to your kitchen by welcoming light and dark wood tones into your space. This trend is a continuation from creating a restorative and calming kitchen space in 2022—as such materials will visually accentuate surface textures, which brings a sense of high-end rawness and tranquillity into your home. The authenticity of wood materials naturally evokes feelings of peacefulness. This may be in the form of kitchen cabinetry, benchtops, dining tables and chairs—or even window frames. Accompanying these varying wood tones, we predict to see sun-baked, earthy, natural tones come to light in interior aesthetics. Such tones will integrate fabulously with greys and neutrals; this could be through accent styling objects such as furniture, appliances, splash backs or window coverings.
Old school glam kitchen design.
An element of glamour can be added to any kitchen design from farmhouse to contemporary. In 2022, we predict to see households playing with colour and texture to create a vintage glam look and feel. Think white cabinetry with gold handles and edging, acrylic stools with soft pink cushions, metallic fixtures and shiny rangehoods. You can still amplify the glam in your kitchen without that pop of colour by opting for white cabinetry, black trimmings and matching gold and white stools paired with a duo of gold sunburst chandeliers. Elegant, curved stools, with dark wood cabinetry and a crystal chandelier creates a moodier version of old school glam in your kitchen. You will find marble benchtops are a staple in any glam kitchen and matching your light fixtures to your island benchtop stools is a highly effective interior design technique.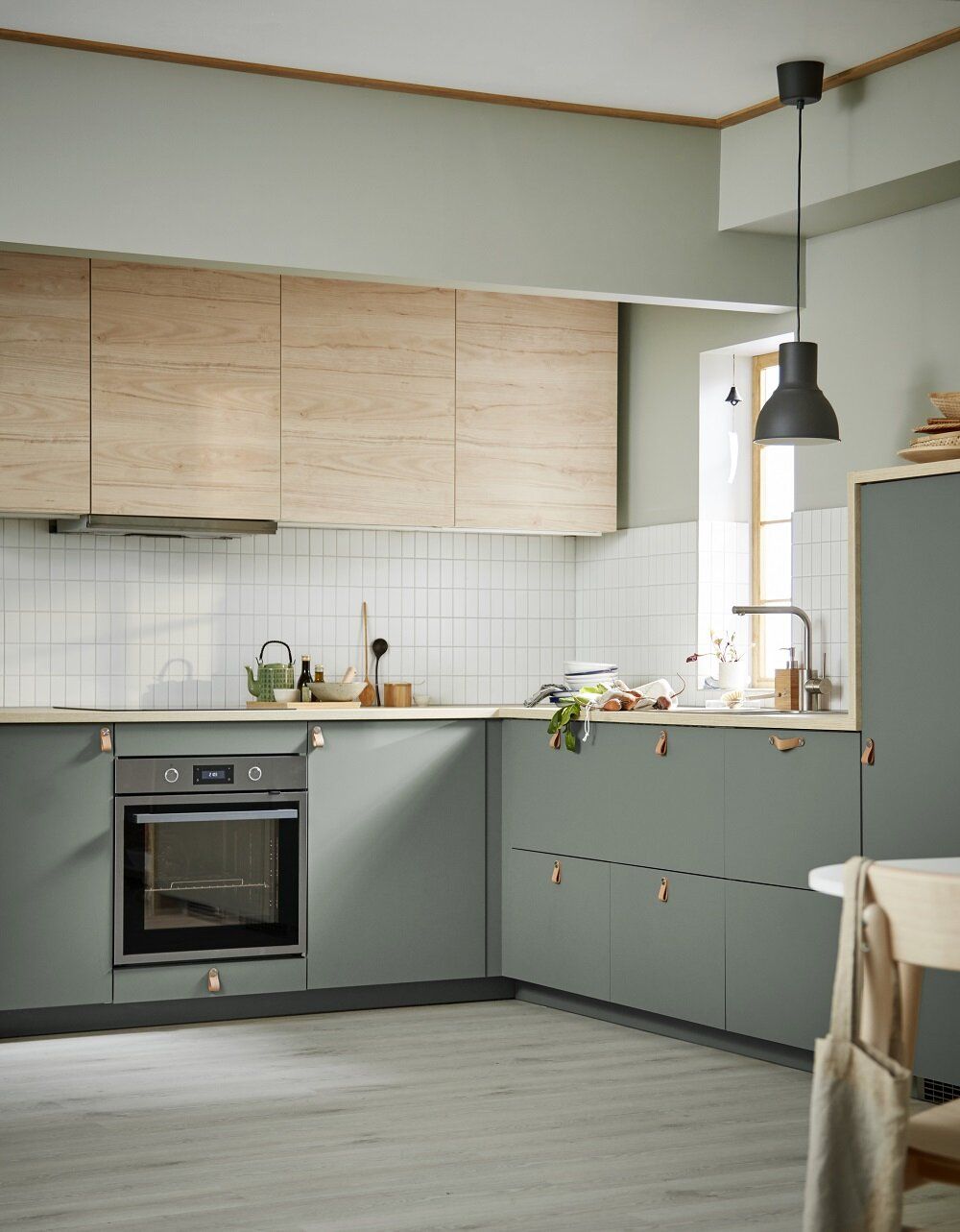 Eucalyptus green kitchen cabinetry.
Eucalyptus is a very natural shade of green that reflects nature—and a colour which is having its moment in the spotlight this year. Nature and your surroundings provide the perfect palette to build your interior design from, which is why eucalyptus is predicted to be seen in many high-end kitchen renovations in 2022. There are over 900 species of eucalyptus trees throughout Australia, and they are renowned for their calming properties, specifically their scent. This shade of green is relaxed and easy on the eyes too. It will instantly promote a feeling of calm within your kitchen and pairs back perfectly with an array of complementary colours such as white, neutrals, greys, black and even gold and brass tones. Wood tones are especially beautiful with eucalyptus green as this really embodies bringing the outside in which we know is a high priority for many Australians in 2022.

Geometric '80s' kitchens.
This bold trend isn't for everyone, but the 1980s are stylistically coming back in 2022. The modern take on an 80s inspired kitchen means colourful surfaces paired with neutral colours, black and white complementing materials and surfaces with stainless steel, retro cabinetry along with modern takes on old school appliances. Choose a geometric splashback tile to complement a neutral kitchen or welcome a pop of colour such as red, black or white into your kitchen. If you have an older, brown-brick 80s home and you like the idea of sticking with its origins, this could be the ideal kitchen design trend to embody for your upcoming 2022 kitchen renovation.
The kitchen is the main hub of all modern homes—so if you're planning a 2022 kitchen renovation, it's smart to stay on top of the latest trends to future-proof your home. Classic design trends with modern functionality can truly create a calming, invigorating and inspiring kitchen that is both practical and beautiful. BJF Joinery, are your one-stop kitchen renovation specialists with a team of qualified professionals ready to help you bring your kitchen dreams to life. Create a space that you're proud of, one that will be a daily delight and the ideal entertainer. It's all about creating a calming, dynamic and versatile kitchen space in 2022.