Choosing a brand-new kitchen sink is an investment that will completely change the look and functionality of your kitchen. Before you decide on your ideal kitchen sink there are many things you need to consider to ensure you're making the right decision. See below for a quick guide on elements you should factor in prior to purchasing your kitchen sink.
What size do you want?
Take into consideration the size of your benchtop to ensure you aren't going too small or too large. As a general rule of thumb it's always best to have more sink space than less, especially if you have multiple people who utilise this space. The size of your chosen sink will also come down to your budget as often the larger the sink or a double sink will mean a higher price tag. If you have a small contemporary kitchen an oversized hamptons style sink will just look out of place. If you don't cook often or you don't have a large family to cater to, a standard sink should accommodate your needs easily. This way you can invest the extra money you would have spent on a larger double bowl sink on another kitchen design element or appliance. If you have a kitchen window above your sink location; size your sink in accordance with this window. This doesn't mean you need to mirror the width of your window with your chosen sink, it just means that it can look out of place if you have a super-wide sink set below a narrow window and vice versa. If you're an enthusiastic cook who prefers hand-washing dishes to using the dishwasher, a large divided-bowl sink with an integrated drainboard is a great option.
What material choice works best for your lifestyle?
Kitchen sinks are available in a range of differing materials including porcelain, stainless steel and cast iron. Stainless steel is the most popular material for modern kitchen sinks, as a stainless sink is hardwearing and looks great when paired with granite, stone, or wood countertops. For more traditional kitchen renovation styles such as Hamptone or Farmhouse, materials such as porcelain and fireclay are the popular choice as these are often white in colour and only feature a single basin (though can be divided into two separate reservoirs in some custom designs).
Do you want an undermount or drop-in design?
Drop-in sinks, also called self-rimming or top-mount, are the market leading kitchen sink designs. A drop-in sink has a visible lip around its perimeter that rests flat on the countertop Whereas an undermount sink does have a rim, but the rim is not visible because it rests up against the bottom of the bench. Undermount sinks are considered a more high-end option, whereas a drop-in design is the more economical choice. Undermount sinks won't impede on your bench space unnecessarily whereas drop-in sinks are easier to clean. Drop-in sinks will work for all benchtops whereas undermount sinks are said to be more appealing for resale.
Do you need a single or double-bowl?
A double bowl sink generally has more room which makes meal preparation and washing dishes more compartmentalised. Double bowl sinks are ideal for larger kitchens and especially those that cater for large families. The double bowl allows you to wash larger pots and pans easily which you may not want to run through the dishwasher. A single bowl sink is better suited to smaller kitchens as they don't take up as much bench space. The popular Hamptons style
kitchen generally has an extra-large single bowl sink which looks good but also is very functional due to how deep and wide this design is.
The best kitchen sinks available for the Australian market.
Here is a list of some of the most luxurious to more economical sink choices to incorporate in your upcoming kitchen renovation. Different sink bowls, materials and shapes have been included in this list to give you an idea of the broad range of sinks that are currently available in the Australian kitchen sink market.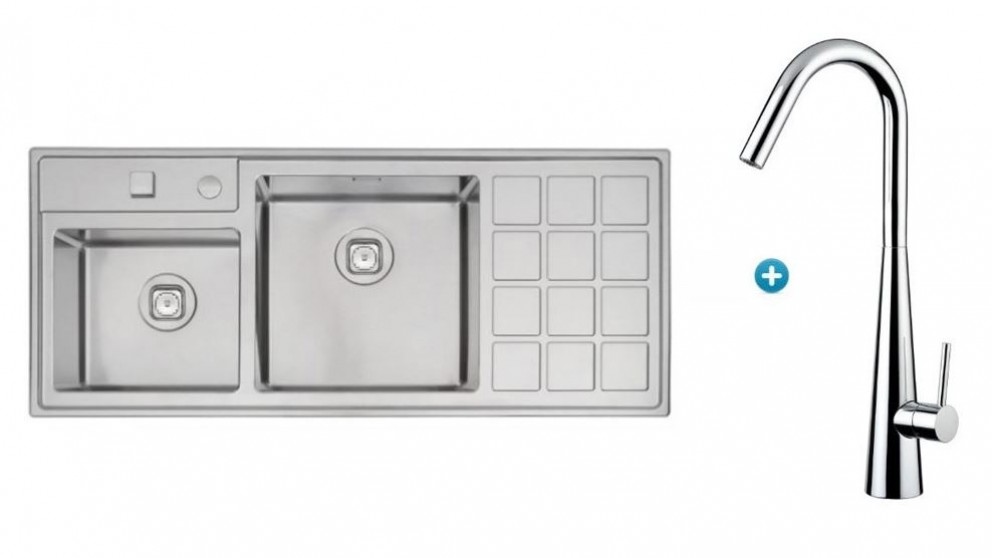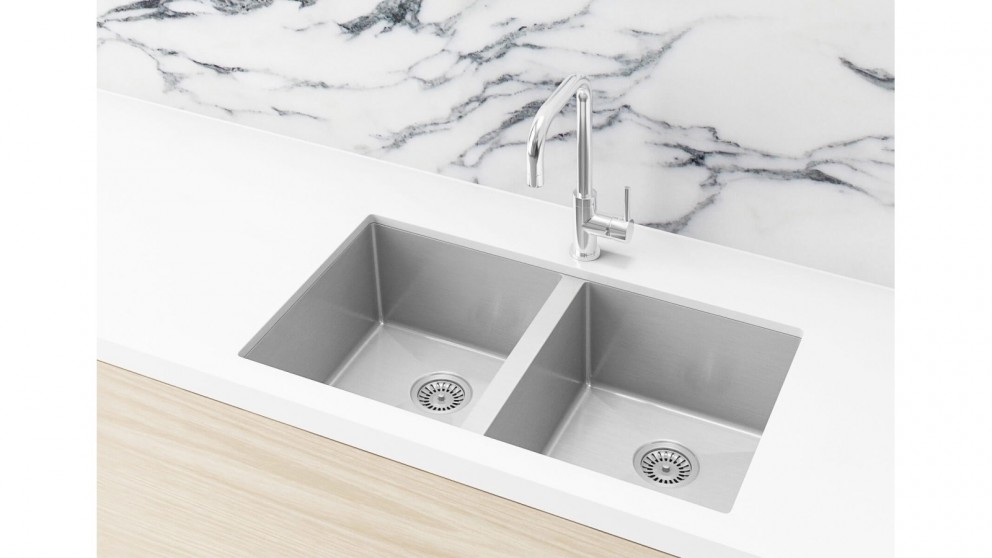 If you are planning an upcoming kitchen renovation and are wanting to discuss important elements such as your kitchen sink configuration with a team of professionals—contact BJF joinery today to arrange an obligation free consultation. BJF Joinery are a longstanding Queensland based business with an impressive showroom and long list of valued clients who have been elated with the results of their work. There is a team of in-house designers who can help you make the right choices for your space and they offer personalised design services which include providing clients with drawings and photo realistic 3D renders of their kitchen renovation ideas. BJF Joinery has a team who are highly qualified, motivated and ready and waiting to bring your dream kitchen to life!