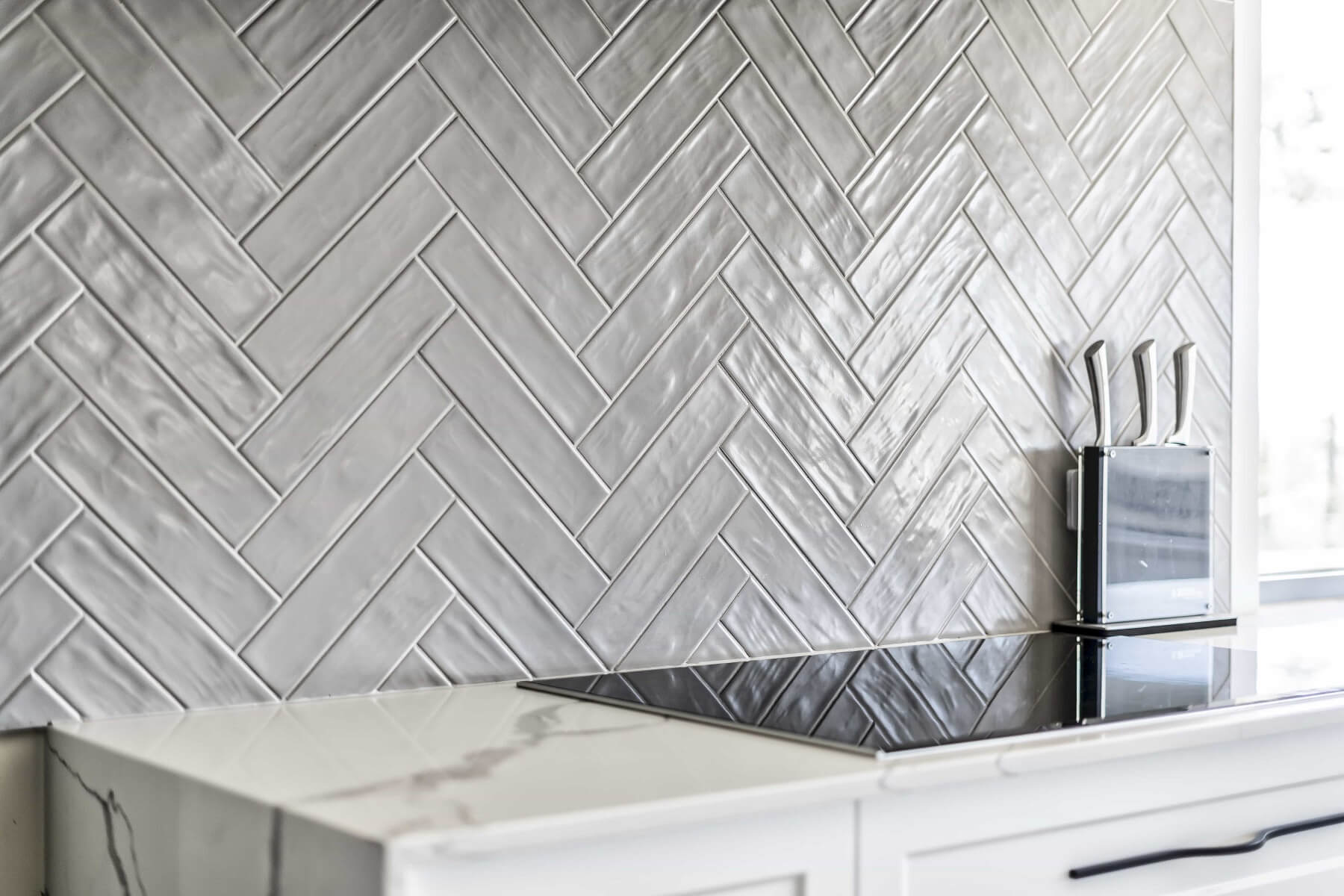 Depending on your personal style, you can opt for a kitchen splashback that is super creative and a kitchen feature, or one that is subtle and tonal to your existing kitchen colour palette and design theme. It's not only important to factor in your kitchen aesthetics when choosing the right splashback, it's important to factor in the functionality of your chosen material too. The kitchen splashback is notorious for accumulating grease and grime from cooking, even if you have an extra strong extractor fan. Consider how some materials weigh up from a practical perspective compared to others prior to committing to your choice in splashback. The right splashback choice can help minimise your cleaning time and will keep your kitchen looking more hygienic for longer.
The kitchen splashback is generally one of the lesser expensive elements of a kitchen renovation, therefore you tend to have more freedom in your budget to splurge on a more luxurious splashback if you wish. For example if the area to be clad in your kitchen is small, then opting for a high-end material over a cheaper alternative, most likely won't blow out your budget and will help give your kitchen that sought after 'wow factor'. A splashback can become a real
design feature for a kitchen with an all white or neutral colour palette as you have the ability to add colour, texture or rustic charm to the space by opting for a more creative splashback. If you are planning an upcoming kitchen renovation and want to browse some of the best ideas for kitchen splashbacks, here is your ultimate guide to kitchen splashbacks regardless of your budget, style or cleaning timeframe.
Arabesque Tiles.
Opting for a classic arabesque tile splashback will give your kitchen a unique and luxurious feel. The Arabesques style is said to have originated in Baghdad in the 10th century and was used throughout most Islamic architecture in the 14th century. With modern design technology, the style has transformed and has been made more accessible which is why arabesque tiles can be found in many homes, hotels and businesses around the globe.The intriguing shape of arabesque tiles means that they are on the more expensive side to purchase and lay, but the result will speak for itself. They are high-end, and available in a variety of colours so regardless of your chosen theme, they can suit many kitchen renovation plans. Use these tiles in a small dedicated area or take them from the bench to your ceiling for an extraordinary result.
Black Glass Splashback.
If your kitchen renovation is one that embodies an ultra-modern design theme, opting for a black glass splashback can give your kitchen that stylistic edge. The best part about a black glass splashback is that it is super easy to clean and will give your modern kitchen that sleek integrated feel. The black glass works great in an all white kitchen design, teamed with chrome or black hardware. Stainless steel appliances, freestanding ovens and integrated rangehoods all work perfectly together in a contemporary kitchen design. Glass splashbacks are also available in a wide range of colours that will suit many contemporary kitchen design themes.
Chevron Tiles.
A chevron tiled splashback allows you to create interest in your kitchen without changing your colour palette. This style has been very popular for many years now and this classic style trend is really here to stay. Once again laying these tiles in the chevron formation will come as more of an expense, but the result is always incredible and will take your kitchen renovation to new heights. Opt for white or grey tones for a classic kitchen design, or choose a pop of colour for a contemporary style kitchen that is more quirky. Put some floating open shelves on your bench to ceiling chevron tiled wall to get that wow factor.
Diamond Kitchen Tiles.
A diamond tile splashback allows you to create a feature in your kitchen that isn't as creative as an arabesque kitchen splashback but isn't as plain as a hexagonal tile splashback. The diamond tile splashback is the ideal happy medium. Diamond kitchen tiles are available in nearly all colours and styles such as glossed, textured and matte to suit a broad range of kitchen renovation design themes.

Herringbone Tiles.
The main difference between chevron and herringbone tile formations is that chevron tiling creates a zigzag style pattern, coming to a point at the top of each zigzag whereas herringbone tiling still has a zigzag pattern but with more of a staggered effect. Choosing a Herringbone tile splashback is ideal for a smaller kitchen as the herringbone pattern is often used to visually create more space within a small space. Your eye is naturally drawn to the width of the 'V' within the pattern, providing an optical illusion of the space being larger. To achieve this look, you can either use skinny rectangle tiles or ordinary subway tiles in your choice of colour and style.

Hexagonal Tiles.
Due to the intricate shape of hexagonal tiles, similar to arabesque tiles—these can be more expensive to have installed. However, they provide a far more creative effect in your kitchen and are the ideal attention commanding kitchen splashback that will impress your guests for years to come. Hexagonal tiles are suitable for any style you may have in mind, no matter how bold or subtle. They will elevate the stylistic appeal of your kitchen and if you choose a high quality supplier they will be hard wearing and long lasting which means you won't need to update these anytime soon.

Marble Splashback.
The main reason people choose to install a marble backsplash in their kitchen is due to its luxurious look and feel. Marble is a stone associated with elegance, class, and timelessness. Marble tends to brighten a space and add an airy yet warm design quality to your kitchen. Marble has a very distinct appearance that is unreplicated in any other natural stone. Marble may stain therefore opting to use this on your kitchen splashback rather than your benchtops can often be a happy compromise.
Mirrored Splashback.
Mirrored splashbacks are made of variations of coloured glass which means you won't have any grout lines or porous surfaces where dirt and grime can reside. They are extremely easy to wipe clean with a simple kitchen cloth unlike more high maintenance materials such as stainless steel. A mirrored splashback will undoubtedly open up a space and add more dimension to a smaller more enclosed space. They are fantastic at enhancing the natural light in a kitchen and overall create an appealing, ultra-modern, low maintenance design element for your upcoming kitchen renovation.

Mosaic tiles.
Mosaic tiles are renowned for being non-porous which make them ideal to use in wet areas such as kitchens and bathrooms. Often mosaic tiles are supplied in sheets which make it far easier for your installer to adhere to your wall, which means they are quite an economical kitchen splashback choice for those on a tight budget. Mosaic tiles are highly practical as they are easy to clean with a simple wipe over. These tiles will remain completely intact and functional even after exposure to high heat, intense light or excessive moisture. They are available in an extensive range of neutral to vibrant colour palettes that allow you complete design freedom when choosing the perfect mosaic tile for your kitchen splashback. If you're looking for a more bespoke pattern, have your contractor install individual tiles in a mosaic pattern. This option will be more expensive, but it will definitely take your kitchen to the next level.
Moroccan-Inspired Kitchen Tiles.
This is undoubtedly one of the more eclectic choices in kitchen splashbacks due to the colour and vitality morrocaan-inspired kitchen tiles inject into your space. Moroccan-style tiles are one of interior designs reigning trends of the last few years. This trend originated from encaustic painting in the middle ages. Homes with Mediterranean influences are an obvious fit for Moroccan-style tiles. Moroccan-style tiles are also popular in contemporary design as they pair particularly well with wood textures, such as the floating shelves. If chosen right, Moroccan-style tiles can appear as timeless as
natural stone. You should however, treat them like natural stone, which means routine sealing (some manufacturers recommend a seal prior to installation), cleaning up spills immediately and avoiding prolonged exposure to moisture.
Penny tiles.
Penny tiles are ideal for contemporary kitchen designs and look fantastic in black or white when paired with glossy white cabinetry and stainless steel or integrated appliances. The price of your penny tile installation may vary depending on whether you buy the tiles in sheets or separately. Opting for the sheet version will save you on material and labour costs as this is far easier for tilers to adhere to your kitchen wall. Penny tiling can be very versatile from a design perspective; they can be all one colour, a rainbow of colours, or a carefully arranged pattern of just one or two colours.

Scalloped Splashback.
The scalloped splashback will command your guests attention in any kitchen regardless of how fancy or dominating other elements of the kitchen design may be. A scalloped splashback will really define your space and give a traditional yet high-end feel to your kitchen. A popular technique with scalloped tiling is contrasting a different colour grout to tile for example grey grout, light blue tile, to add interest in the space. Once again this abnormal shape means it will be more costly to install but will be a true work of art once complete.

Square tiles.
These are extremely popular for contemporary kitchen designs and are very easy to install due to their generic shape. If you want that design edge have your contractor lay your square tiles in an offset pattern. This arrangement creates more interest in the space and works with neutral colour choice or a pop of colour. Play with grout and tile options to create impressive or quirky contrasts that set your kitchen apart from the rest. Although these are a more signature shaped tile, this doesn't mean they are a less effective design element. They look great in a colour that is tonal to your chosen stone benchtop to create full kitchen design cohesion.
Stainless steel.
Stainless steel is an affordable material which is known for its heat-resistant and hard-wearing properties. It's known to be easy to clean, however, it can at times be difficult to keep looking pristine as it is not scratch resistant. Stainless steel is strong and shouldn't dent over the term of its natural life if installed by a professional. It's a great choice for commercial kitchens however has recently started appearing in many contemporary home kitchens. Stainless steel is corrosion resistant and a hygienic material choice for your kitchen.

Subway Tiles.
Subway tiles are durable, heat-resistant and come in a huge range of colours and finishes that allow you to transform your kitchen splashback into an eye-catching feature. Due to the subway tiles simple sophistication, they are one of the most popular design choices in a kitchen and this trend is guaranteed to be longstanding. Subway tiles originated with the New York City subway system (and the London tube), where white tiles are stacked in an offset pattern. These tiles look best in a farmhouse or classic kitchen but can work with literally any style!
BJF Joinery are kitchen renovation professionals who have all the practical and design knowledge to bring your dream kitchen renovation plans to life. If you are looking to renovate your outdated kitchen and want to discuss your ideas and options with certified, market leading professionals—contact BJF Joinery today and speak to one of our friendly customer advisers. BJF Joinery only uses the most trusted industry professionals and the highest quality materials. Book in a free consultation today or visit our showroom to browse some of our notable work. We have qualified in-house designers who can help you decide on the ultimate kitchen splashback and accompanying features for your upcoming kitchen renovation.